I've been bitten! Dammit. There's still drool on my arm. *sigh* Anyway,
this is a nifty little thing
to do in honor of Zombie Appreciation Week that ends tomorrow, actually. So better haul your ass out there in the blogosphere and start infecting people! That sounds so wrong.
For more zombie fun,
calculate how long
it'll take you to turn into a zombie and you can win
World War Z
by Max Brooks! But hurry. You only have until September 5th. Yeah, I would have posted this yesterday if I didn't have my head hanging in a toilet bowl last night. Fun times!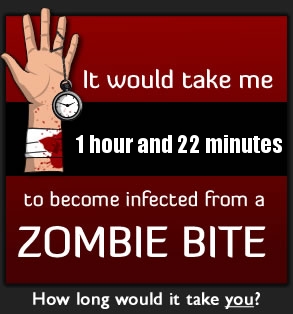 Created by The Oatmeal
I kick zombie virus ass.